Operation Round-up
As an SSVEC member, you have the opportunity to help individuals and organizations in our communities through a program called Operation Round-Up®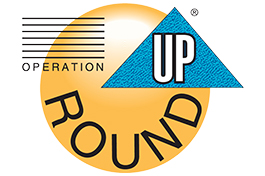 When you sign up to participate in this program your electric bill is rounded-up to the next whole dollar amount. The additional money (from 1 to 99 cents) is placed into the cooperative's Charitable Trust and these funds are dedicated to charitable projects within our service area. The program is flexible in that you may also give a one-time gift or a fixed monthly amount.
The intent of the Operation Round Up Program is to:
"Help families cope with emergencies, illnesses and special medical needs"
"Aid community and emergency service providers in their efforts to improve the quality of life for our less fortunate neighbors and support each community's health, safety and well-being"
---
Example of how it works
If your electric bill is $66.45, Operation Round Up® will add $.55 to make it an even $67.00.
Your electric bill will show an itemized charge of $0.55 labeled MISCELLANEOUS Round-up Program.
The $.55 will be placed in the Charitable Trust for projects in our communities.
---
Qualification Guidelines for Assistance
Funds shall be disbursed in the general service area of SSVEC solely for charitable, health or safety purposes.
Organizations must be exempt from Federal Income Taxation under s501 (a) of the Internal Revenue code of 1986 (or the corresponding provision of any future United States Internal Revenue Code—the "Code"—as a corporation described in s501 (c) (3) of the Code.)
No funds from the charitable trust shall in any fashion be used to support any candidate for political office or for any political purpose.
Not more than $2,500 will be given annually to any family unit, group, organization, charity or like organization.
The Board committee will not meet less than monthly to evaluate applications.
The Board committee reserves the right to carry over applications to a later meeting depending on fund availability and other factors.
In an emergency situation the CEO is authorized to approve an application request.
The Board committee reserves the right to deny any request.
---
Common Questions
Just fill out the Participation/Sign up Form and send it with your next payment. We will do the rest.
You can email your information to us (name, address, account number), and say you'd like to participate in the "Round Up" program.
The program allows you to specify a monthly gift of any amount you choose.
Enter the amount of the gift on the Participation/Sign up Form and we will add that amount to your next SSVEC bill.
Your participation continues until you notify your local co-op office to cancel.
Yes. You will also receive an annual summary.
You can participate by indicating the additional amount you'd like to contribute each month.
Applications are available at SSVEC offices.
See the Qualification Guidelines above.