Surge Protection
More than 50% of today's residential products contain electronic components and the list is growing. Most people only think of computers, TVs and VCRs when you mention electronic appliances, but many of the newer products, such as stoves, refrigerators and heating and cooling systems contain sophisticated electronic circuits. SSVEC has a Power Protection Package starting as low as $8.95* per month.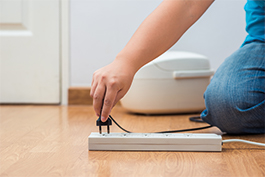 The Surge Problem
Every small surge deteriorates the electronic components in this equipment, which can drastically shorten their designed life. The average home has 2,200 or more surges annually. These surges can be generated from a number of sources, such as heaters, dryers, garage door openers and motors starting on air conditioners, freezers, and well-pumps. Most of these surges are so small the average consumer does not see the damage they cause. However, your electronics take a constant "pounding." When a thunderstorm strikes, the electronic components may fail and you may think lightning caused the damage. In reality the product was already on the brink of failing because of the many constant low-level surges from your own equipment. Whole-house protection with proper grounding and end-use protection for each piece of equipment will give you the best possible protection available.
---
Lighting Paths
Be aware that a high voltage surge can enter equipment through paths other than the power cord. These paths include the TV antenna, cable TV, telephone lines or other attachments. Surge protectors for the antenna, cable, and phones lines must be plugged into a grounded three-prong outlet to protect your equipment.
---
Protection Program
SSVEC's Power Protection Program consists of a Whole House Surge Protection Device that attaches to your meter. This provides coverage for the common appliances within your home. To protect sensitive electronic equipment we include a "basic" starter package with the program. We include a 8 outlet computer grade plug-strip w/ phone plug, 2 coax to protect TV antenna , cable TV, and satellite dish system. A single module to protect a microwave or garage door opener, a module to protect a phone line or fax machine, and a 3 plug module. By using both the whole house and the plug in modules you have a repair or replacement warranty.
The program is a 36 month minimum lease that has an initial start-up fee of $79.95 with a monthly fee of $8.95. The monthly fee will continue as long as you want the warranty protection. The plug in modules have a life-time replacement and repair warranty and SSVEC will maintain the whole house module as long as you remain with the program. In all plans the inside modules are yours and SSVEC will own and maintain the Whole House device.
---
Common Questions
Surge protection devices need a path to ground to work properly. The home must have a grounding point for the surge suppressor to send the overvoltage. The National Electric Code (NEC), article 800 states:"All power, cable and telephone grounds MUST be bonded to the same grounding electrode system entering a building. This prevents potential ground voltage differences that may be seen across data, power, and telephone lines connected to sensitive electronics.If you have multiple ground points, these will have to be brought to NEC standards prior to the installation of the surge protection equipment. Improper ground bonding may result in the voiding of applicable warranties. *Three-prong to two-prong adapters must not be used with any surge protection equipment.
Grounded outlets were not required until the mid 70s. Your home may have been built with two-prong outlets, and a previous well-intentioned homeowner may have replaced the old two-prong outlets with newer three-prong version. However, unless he installed a ground wire, it is still a non-grounded outlet. Outlet testers are an inexpensive way to see if the outlet is wired properly. A tester can be purchased at most hardware and home centers. If your outlet is not properly grounded or if it is an older two-prong outlet (Figure A) it would be preferable to have an electrician run a ground wire to the outlet. An economical alternative is to use a Ground Fault Circuit Interrupter (GFCI) Adapter (Figure C) which plugs into your existing two-prong outlet. When a GFCI Adapter is used the diagnostic light will still indicate "no ground" but usage will be safe.diagram outletsElectronic equipment must be plugged directly into the surge suppressor with the surge suppressor plugged directly into a grounded wall outlet (Figure B) or GFCI Adapter, and the Whole House Surge Protector must be properly installed for full warranty coverage.*USE OF EXTENSION CORDS INVALIDATES ALL WARRANTIES.
We need a signature on the lease agreement. We can mail you the forms for you to sign and return with the initial start-up fee. You can always stop by your local SSVEC office and sign-up in person.
You must use the protectors provided in order to be covered by the warranty! The manufacturer can only provide repair or replacement coverage if they have built the surge protector. They do not have any control over the quality of a device another company produces.
You can purchase additional module units if you have more than one computer, TV, message machine, microwave oven, etc. These items must have their own individual module to be covered under the warranty. In the case of a damage claim, you may be required to submit the individual module and we may inspect the whole-house unit.
This lease program through SSVEC provides whole-house protection from damage caused by power surges. A device installed at your electric meter protects appliances and equipment from surges coming in over the power line. You get warranty protection for large appliances such as refrigerators and air conditioners. Individual modules plugged in at outlets provides a second stage of protection for sensitive electronic equipment such as computers, TVs, phone answer machines, and microwave ovens.The program covers repair or replacement of items damaged because of a power surge.
The program covers the repair or replacement of appliances damaged by power surges.A qualified electrician installs the whole-house protection device at the meter. You receive four modules that plug-in at an electrical outlet for the sensitive electronic equipment: 8 outlet computer grade plug strip, 2-outlet all mount plug-in to protect TV and VCR, 1 outlet wall mount to protect single device (microwave oven or garage door opener), and single plug/coaxial TV cable protection module.
Yes, the equipment has a lifetime warranty. If you have a damage claim, we replace the module and inspect and replace (if necessary) the whole-house unit.
There is a one-time installation fee of $79.95 (plus tax) for the grounding inspection and installation of the whole-house unit, then payments of $8.95 (plus tax) each month (under the three-year lease).
Yes. You can choose to continue with the lease program at your current monthly rate (plus tax). The rate you start with will remain the same while on the Surge Program.
This program does not cover damage from direct lightning strike. You need to check your homeowner's insurance policy to determine whether you have coverage.
Proper grounding at your electric service entrance must be up to the specified electric code; the installer will verify this.
Three-prong to two-prong adapters must not be used with any surge protection equipment; if these adapters are used, the warranty coverage is voided.
---
Surge Claim Update
The Whole House Surge Protection Program is undergoing changes to decrease the procedure time for submitting claims. In the past the members would call SSVEC to process a claim for damages that resulted from a surge spike. In turn SSVEC would gather information from the member and call the manufacture for claim instructions and forms. The manufacture only allows 30-60 days to process claims from the date of failure. The manufacture will now collect the information to determine the surge devices and documentation required to process the claim.
Surge Program Changes:
Members will call the manufacture to process claims for damages that result from a surge spike.
SSVEC will remove and replace meter-base surge units and ship them to the manufacture when required for claims.
SSVEC will continue to provide assistance for our members during the claim process.
The Warranty and contact information for Surge product manufactures is located below for your convenience.
The Surge Program Still Provides:
Over the counter replacement for plug-in surge devices that are not part of a claim.
Installation and replacement of Surge meter-base units at the home or business.
Still the point of contact for surge installations and site (residential, commercial, well pumps, and irrigation systems) evaluations.
The sale of additional surge plug-in devices over the counter.
The manufacture's warranty explains that other devices such as a well pumps, telephone, cable, satellite, or television are not protected by the meter-base. You must use a separate plug-in or surge protection device for those item(s). The plug-in surge device (Starter Kit) was delivered at the initial installation of the meter-base. The manufacturer's name can be found on the meter-base and surge plug-in devices.
Our hope is to have all claims and reimbursements handled as quickly as possible. SSVEC will still be your point of contact for all surge questions. The manufacturer's contact information is listed below:
---
*Initial start-up fee is $79.95